Memoirs
How I turned $500 and a moped into a full-service catering company
Pacific Business News
March 20, 2015 • By: Duane Shimogawa
Link To Article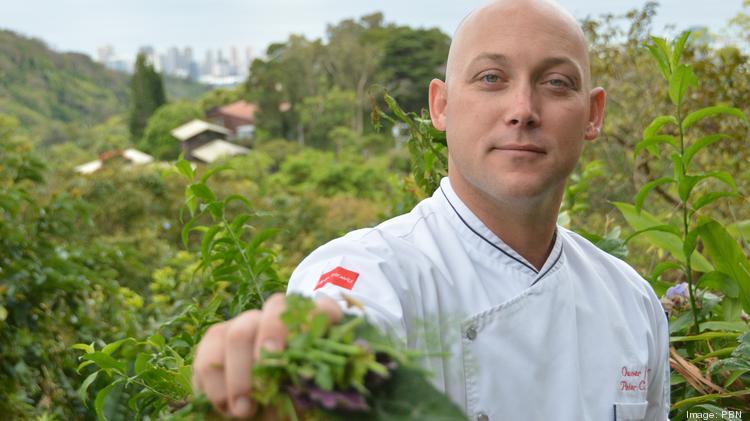 I got into this in Los Gatos, California as a dishwasher at 15 years of age. It's a great way to break into the industry. I worked my way up to cook, to host, to every sort of position at a restaurant before I graduated high school.
I went to the Culinary Institute of America in New York, and then went off to Germany, San Francisco and then Hawaii, where I have been for 12 years.
I came to Hawaii from Germany to work with Chef Alan Wong, and then I went to the Halekulani Hotel and worked at La Mer. Then I got into catering.
Simply put, I wanted to be with people, and wanted to be in all facets of the industry. At the time, I was 23 and I had $500 and a moped. I started moonlighting with guests who were coming into La Mer, doing dinners at their house, and it got kind of busy.
I would rent cars, go shopping, source foods, cook it, go to people's homes, clean and bounce. I got home at midnight and I did that for about a year and it took off and then I started to do full-service catering. I have been doing this for eight years, which is when I started Memoirs Hawaii. It all came back to wanting to be around the guests and seeing how the food worked.
We do nine people to 1,000 people. The profit margins fluctuate. We do weddings, corporate events, and fine dining to dignitaries, celebrities and locals at their homes.
With the celebrities, the concierges here will find a private chef, so agents will contact concierges. There was a time when I was doing all rappers — 10 pop artists in one year. A lot of them came about because a hip-hop kingpin was out here.
It's become a crowded market. About five years ago, there were about half as many caterers, and that little economic speed bump got a lot of restaurants concerned and I watched three chefs develop catering arms to their businesses.
It's good because catering companies weren't considered to perform for large functions long ago, but now we are playing into that picture because competition makes the industry better. Once that happens, you've got players in the market that are outperforming restaurants by leaps and bounds. We don't have the borders or restrictions restaurants do. We are specifically being trained for what's being asked of us for an event.
We have 45 people on staff. The best part about these guys is that they have jobs in other professions, so when they come to us, they're excited and motivated.
Our staff is our best asset. We find our people through word of mouth. On occasion, I put out an ad, especially for bigger events.
Our young professionals are between 25 and 35 years old. We also have seasoned hospitality people, maybe in their 40s, 50s or 60s. You need that balance of young and old.
The biggest challenge for our company and most companies our size is controlling the scaling process during growth.
Finding ourselves sharing market space with larger companies causes us to adapt and compete in new ways. Staying true to core values while providing value is a daily discussion in the office and the kitchen.
I started out in Kailua and now I am in Kakaako. I'll be 32 this year.
ur goal is to open a restaurant next year, but a restaurant is another equation that requires a lot of planning, a great team, and funding. I like Kakaako. It's a timing thing. I can't really be sure, but next year has been the goal since 2012. We're making the numbers, making it happen, so 2016 is our target.
You want catering to always be a branch of a restaurant. You can provide food to 500 people in one shot.
We have a little farm on the North Shore where we source local vegetables like herbs. Our fish is always local.
The necessary components happen at our kitchen in Kakaako. The final execution, finishing touches, we do at the site.
We saw a 250 percent revenue increase between 2012 and 2013, which was huge for us.
We look at 10 events a month being a healthy mark. It is seasonal; we've got the wedding industry, holiday parties — anywhere between 150 and 600-person range. Ten of those are awesome. That's busy.
As a small-business owner, you try to balance your life, but that's a constant effort. On my days off, I get to do something else for a few hours. I also like to work in my garden and I love to golf. I have an addiction to that. I also like to paddleboard.
I like to cook. Cooking is my thing. It's so relaxing. It's getting ingredients, opening a bottle of wine, and just go.